This Italian inspired pasta salad recipe was due for an update. It got new pictures, a new video and it now tastes even more delicious.
The pasta salad can easily be prepared when you're visiting or on holiday. It's ready in less than 20 minutes, the ingredients should be available in every supermarket and you don't need any fancy kitchen equipment.
This healthy mediterranean summer salad can be enjoyed warm from the pan as a quick meal. It can also be eaten cold, so it's perfect to bring to a potluck, barbecue, to the beach or to a party buffet. Or just in your lunch box to work.
My simple basic recipe without mayonnaise also works fine if you omit the onions and garlic.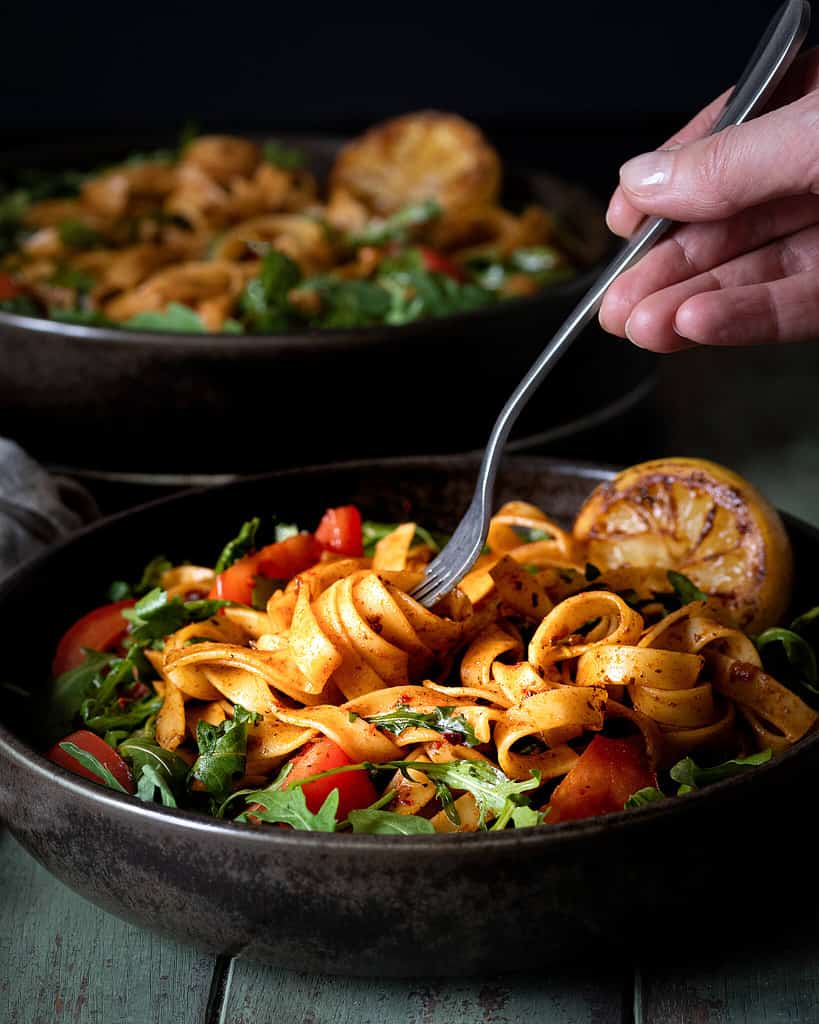 What do you need for the pasta salad?
pasta of choice
rocket salad or spinach and tomatoes
Italian herb mix
smoked paprika spice or just paprika powder
pine nuts
maple syrup
a little chili
balsamic glaze
lemon
If you don't know balsamic glaze yet, you really need to try it, it's a thick syrupy sauce made of balsamic vinegar. It's delicious on many dishes and sandwiches and I think it's available everywhere meanwhile. If you can't find it, you can make it yourself by simmering balsamic vinegar until it thickens up, usually about 20-30 minutes. That's why it is also called balsamic reduction.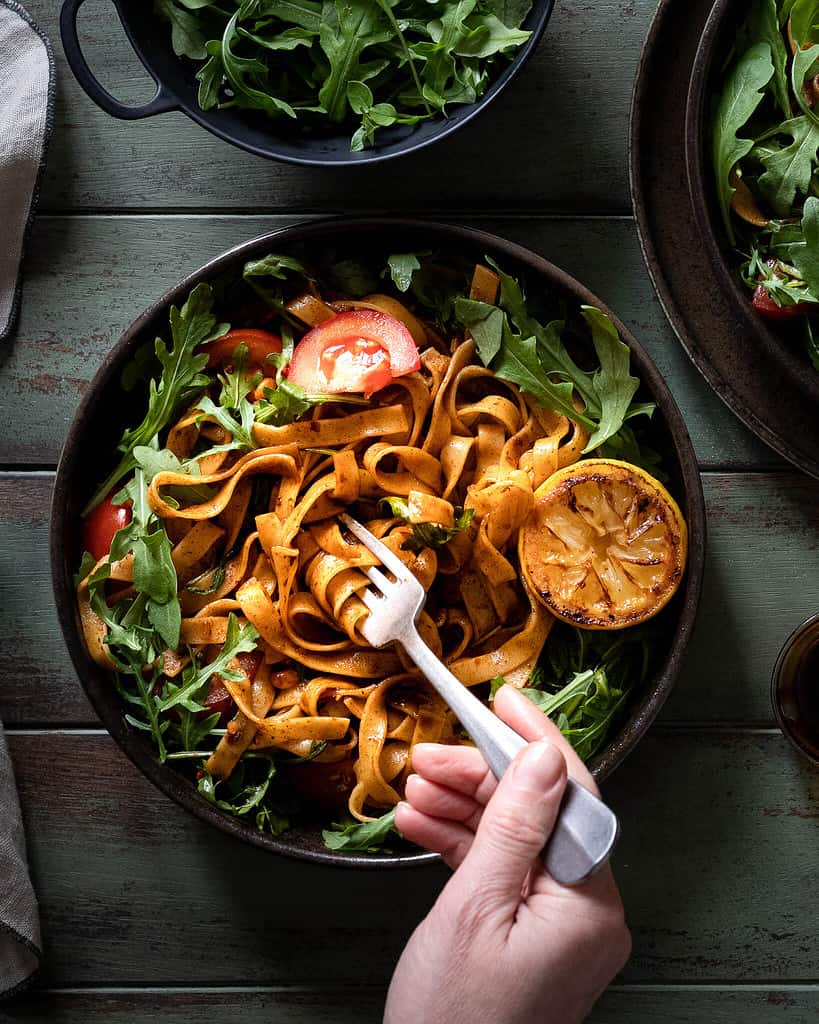 What can you add to the pasta bowl?
meat replacements
cooked lentils or beans
tofu, especially smoked tofu
vegan cheese
other vegetables
This is of course an excellent way to use up what's left in the fridge! Tofu and other veggies can best be added right after the onions, ready to eat meat replacements, lentil or beans and vegan cheese can be added before the pasta.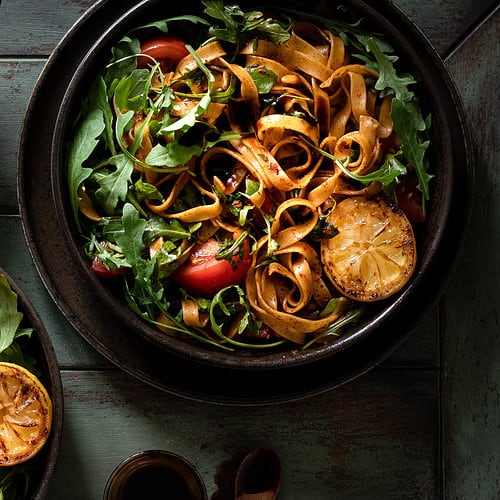 QUICK & EASY PASTA SALAD WITH BALSAMIC GLAZE
Vegan pasta salad that can be made in less than 20 minutes, with supermarket ingredients and no fancy kitchen equipment
Ingredients
2,5

cups

pasta

250 g

1

lemon

2

tablespoons

olive oil

1

small

onion

chopped

1

garlic clove

chopped

1

tablespoon

pine nuts

1

tablespoon

smoked paprika powder

or just paprika

1

tablespoon

Italian herbs

1

tablespoon

maple syrup

1/2

teaspoon

salt

2

hand fulls

rocket salad or spinach

2

tomatoes

cut in quarters

2-3

tablespoons

balsamic glaze

pinch of

chili
Instructions
First, gather all your ingredients and prepare them in the right amounts. That makes it so much easier and more fun and you're less likely to forget anything. 

Cook pasta according to instructions.

Cut lemon in half and brown them in olive oil face down for about 3-5 minutes. Then set aside.

Sauté the onions in the same pan for about 2 minutes until translucent, then add garlic and pine nuts. Stir well.

Add smoked paprika, herbs, salt, maple syrup and the drained pasta and stir well.

Mix tomatoes, rocket salad and balsamic glaze and to the pasta, stir, put on plates immediately and sprinkle with chili.
Did you enjoy this recipe?
A 5 star rating would mean the world to me and I always love to see your pictures on instagram @flymetotheveganbuffet
If you enjoyed the pasta salad and you're looking for another quick and easy recipe, feel free to check out my peanut noodles.
MerkenMerkenMerkenMerkenMerkenMerkenMerkenMerkenMerkenMerkenMerkenMerkenMerkenMerkenMerkenMerkenMerkenMerkenMerkenMerkenMerkenMerken