This is one of my quick and easy vegan recipes which are easily cooked somewhere else. You only need about 20 minutes and a couple of things from the supermarket. You don't need any fancy kitchen devices for these peanut noodles. They are a perfect crowd pleaser after a long day at the beach or snowboarding.
You can make these incredibly tasty peanut noodles for lunch or dinner, for guests, as a main course or side dish. They can be enjoyed warm or cold and be prepared for a picknick or a long trip.
What can I add to the noodles with peanut sauce?
This recipe for noodles with peanut sauce is basic on purpose, so you're invited to add things like:
onions
garlic
beans
other vegetables
tofu
meat replacements
I like to make this Southeast Asian inspired noodle dish when visiting my dad, whose kitchen cabinets are almost empty and who refuses to eat onions. Or I make the peanut noodles to use up what's in the fridge before flying.
What do you need for the noodles with peanut sauce?
You need noodles. They are usually vegan, but there are some that contain eggs, so you want to check the label. In an emergency I would go for Spaghetti if the little shop at the camping site doesn't have much to choose from.
I went for broccoli and carrots as vegetables, but of course they are interchangeable.
For the sauce you'll need peanut butter. If it is salt-free, you might need a little more soy sauce.
If you'd rather have a sauce without coconut milk or oat milk, you can just use water.
When I'm cooking for a group, there is usually one person who doesn't like cilantro. That's why I often serve it separately. Or I just use parsley.
I always serve the peanut noodles with extra soy sauce and chili on the table.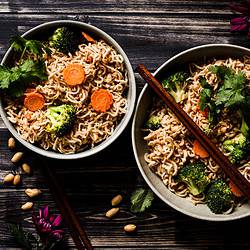 QUICK & EASY NOODLES WITH PEANUT SAUCE
Basic recipe for peanut noodles, my quick and easy crowd pleaser: ready in 20 minutes, to be enjoyed warm or cold, many possible variations
Ingredients
250 g

(9 oz.) noodles

1

carrot

1/2

cup

broccoli

plant oil

1

tablespoon

ginger

chopped

120

ml

(1/2 cup) coconut milk or oat milk

or water

1/2

cup

peanut butter

2

tablespoons

maple syrup

1/4

teaspoon

red pepper flakes or fresh chili

2

tablespoons

soy sauce

1

tablespoon

rice vinegar

cilantro

peanuts

lime
Instructions
First, gather all your ingredients and prepare them in the right amounts. That makes it so much easier and more fun and you're less likely to forget anything. 

Slice the carrot and cut the broccoli.

Then heat salted water for the noodles.

Chop ginger and peanuts and cilantro, cut lime into wedges.

Cook noodles according to instructions.

Fry broccoli and carrots at moderate to high heat in a large skillet for a few minutes. Feel free to add onions, garlic, other veggies, tofu or any meat replacement.

Drain noodles.

Remove broccoli and carrots from the skillet and sauté ginger in there for a moment.

Reduce the heat, add plant milk, peanut butter, maple syrup, red pepper flakes, soy sauce and rice vinegar, and stir into a creamy sauce.

Add noodles, turn heat back up, stir again and then add broccoli and carrots.

Stir-fry a little more, then arrange on plates with lime wedges, cilantro and peanuts.

Serve with extra soy sauce and chili to taste.
Did you enjoy this recipe?
A 5 star rating would mean the world to me and I always love to see your pictures on instagram @flymetotheveganbuffet
If you like the noodles with peanut sauce, you might also like my quick and easy pasta salad with balsamic sauce.
Or do you just want a recipe for peanut sauce?
MerkenMerken
Subscribe to my newsletter: