Vegan white chocolate glazed chai madeleines are quick and easy to make yourself. What you need is a madeleine baking tin, for example this one*. I find it really pretty and you don't need to grease it.
What are the white chocolate glazed chai madeleines based on?
Ever since the first time I had a Masala Chai in an Indian restaurant, I've been a big fan. As it's mostly not vegan, I make my own at home. Fresh ginger, a cinnamon stick, black pepper, cloves and cardamom, some black tea, simmer for 10-20 minutes, pour through a sieve, add plant milk and maple syrup and enjoy.
That taste would be amazing in a christmas treat too, I thought the other day. The result was so tasty, I had to share that with you.
You don't need to make tea for the white chocolate glazed chai madeleines, the spices go right into the dough. You can use a mortar and pestle or an electric spice mill to grind them up. Or if you have some instant chai tea powder, that will work too. I would use about a tablespoon of that.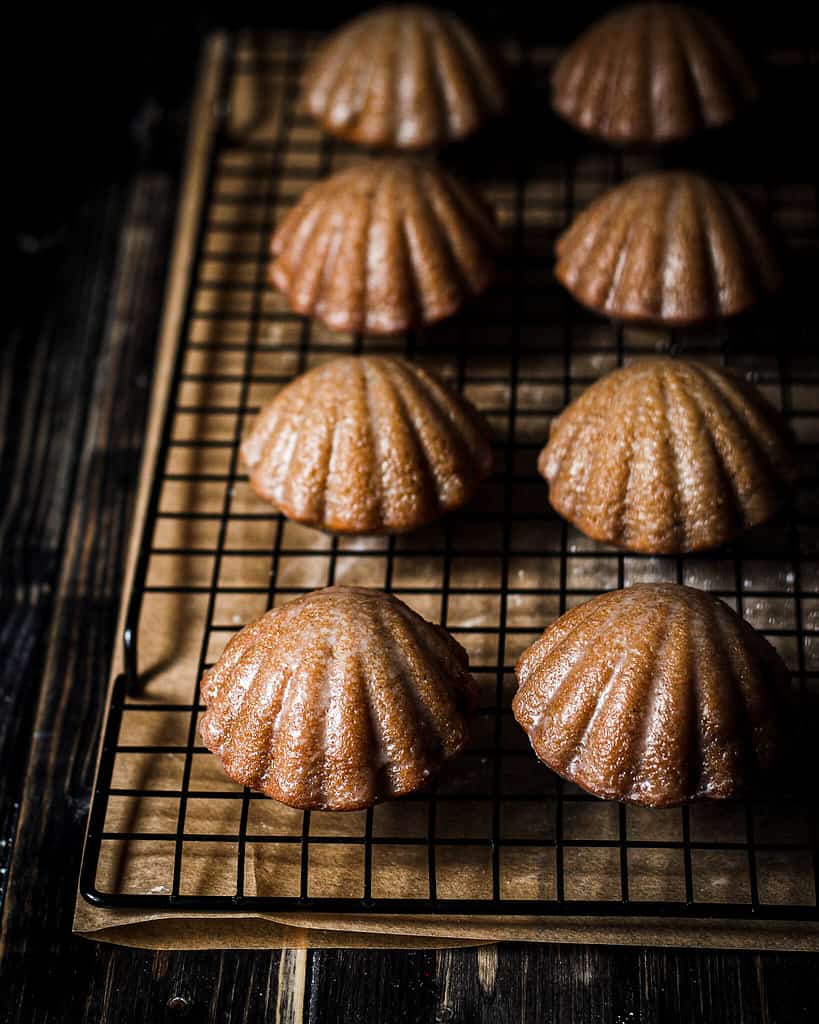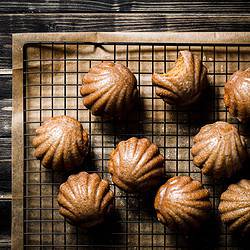 WHITE CHOCOLATE GLAZED CHAI MADELEINES
Vegan madeleines with chai spices and a soft white chocolate glaze
Ingredients
1

and 3/4 cups spelt flour

200g

3/4

cup

coconut sugar

75g

1

teaspoon

baking soda

1/4

teaspoon

salt

1/4

teaspoon

ginger powder

1/2

teaspoon

cinnamon

3

cloves

3

black pepper corns

content of 3 cardamom pods

1

cup

plant milk

240ml

1/3

cup

plant oil

80ml

1

tablespoon

apple cider vinegar

1

bar of vegan white chocolate

80g

1

teaspoon

cocoa butter*
Instructions
Preheat oven to 180°C/ 356°F.

First, gather all your ingredients and prepare them in the right amounts. That makes it so much easier and more fun and you're less likely to forget anything. 

Combine flour, sugar, baking soda, salt and spices in a bowl, combine the cup of plant milk, the plant oil and the apple cider vinegar in a second bowl.

Then stir until just combined.

Pour the dough evenly into the madeleine tin. Bake for 25 minutes and let cool off a bit. Then take the madeleines out and put them in the fridge. They should be really cold when you dip them into the chocolate.

Heat water in a pot (don't boil) and put the white chocolate with the cocoa butter in a smaller pot in the water. Melt while stirring. When the first pieces start to melt, you can switch the heat off. The chocolate should not get warmer than necessary for melting.

Dip the madeleines with the madeleine side into the glaze and let them dry.
Did you enjoy this recipe?
A 5 star rating would mean the world to me and I always love to see your pictures on instagram @flymetotheveganbuffet
Have you seen my other fall recipes for cozy dark evenings?