(I picked these places in San Francisco from HappyCow and bought the food myself, this is not a paid advertisement)
When you're vegan in a city like San Francisco nowadays, you won't have a lot of trouble finding food. Most places have at least some kind of hummus wrap or veggie burger that can be made vegan. And of course there are many interesting restaurants you can find on happy cow or vanilla bean or other apps. 
The ones I end up writing about are usually not just offering good vegan food: they are little universes in themselves that you enter when you arrive and feel different when you leave. The places you remember. Often the whole area is part of the experience like when I went to Liguria bakery:
LIGURIA BAKERY
This more than a hundred year old family owned focaccia bakery is located at a corner of Washington square park in front of Saints Peter and Paul church where Chinatown and Little Italy meet. There is no seating area inside the bakery, so I took my nicely wrapped mushroom focaccia and rosemary focaccia to a park bench and watched elderly Chinese people practice Tai Chi while enjoying my amazing food. That is amazing focaccia, people! Really perfect. Cash only.
For more information go to their Facebook-Page here.
NOURISH CAFÉ
On my first morning in San Francisco I decided to check out this place in Nob Hill and it turned out a great choice, and a very healthy one. Nourish Café uses minimal oils and natural sweeteners only. Everything is organic, non GMO and vegan. Gluten-free options are also available. 
I had the better brain juice (sounded like a good idea) and the toast sampler: avocado chimchurri, cream cheese and Mediterranean. The next day I came back and had a banh mi sandwich, a blueberry muffin and an almond latte. They also offer bowls, smoothies, pastries, ice cream and more, and some packaged things to take away.
 I liked that they were playing Radiohead and that the barista had green hair, and I also liked that there is a Trader Joe's right across the street.
For more information click here to go to their website. 
GOLDEN ERA VEGAN RESTAURANT
This is a light, beautiful, spacious, clean restaurant with nice staff, a quite extensive menu and great food. It's located in Tenderloin district, so the 15 minute walk there from our hotel was, um, not boring. If you're uncomfortable with screaming people kicking over trashcans you might want to take an uber to get there, but do check out this place if you're in San Francisco.
Once I was inside, it was like a different world. Nice alternative music was playing and the forest wallpaper, big plants and buddha statue radiated tranquility. The Asian fusion cuisine includes flavours from Thailand, Vietnam, India and China. It was hard to decide what to order because everything sounded good, but I decided to try the Spicy Lemongrass Veggie Chicken (delicious, and spiciness level was OK) and the Vietnamese Coffee (strong!) 
The next day I came back with my colleague and we went for a broccoli stir-fry and "the Queen" which was the name of caramelised veggie chicken with chili sauce and fresh salad.
The servings are quite big and once again the food was really delicious, so unfortunately we had no more room for dessert. 
By the way, no alcohol is served in this restaurant. I came back once more on labour day, because the restaurants I wanted to check out turned out to be closed, and once more I was very happy with my fresh fruit juice and the Garden Vermicelli with spring rolls. For more information click here to go to their website.

LOVING HUT
This San Francisco outlet of the all vegan Loving Hut chain is located in the Westfield Mall Food Court and is great for a quick lunch or takeout. You can have combo platters, sandwiches, salads, cake, etc. I got the rainbow salad with soy protein, wonton and spicy peanut sauce for my return flight.
For more information click here to go to their website.
MARIPOSA BAKING COMPANY
How could I not check out a place with such a cute name? I found the bakery located inside the beautiful ferry building right by the sea. They offer several vegan items which are clearly labeled, most of them sweet, but I am more into a savoury breakfast, so I got an empanada, an avocado toast and a mocha cupcake for dessert. Service was nice and fast, and the ferry building has a seating area outside with sea view.
For more information go to their website here.
CHA-YA
I came across this Japanese place for the first time many years ago when my friend Esther took me and a couple of other colleagues there. She said she know a great Japanese place and "they have vegan stuff too". She knew full well that the place is all vegan which might have put some of the others off, but she also knew full well that they wouldn't even notice once they saw the menu. She was right, and everyone loved it. And I remember being so tired I could hardly keep my eyes open (layovers in California are challenging with the 9-hour-time difference to Germany, especially if you're an early bird like me) but suddenly the table was full of amazing Japanese food and I could have all of it! I was so happy! And I have been happily coming back ever since. Service is great and there is a lot on the menu to choose from.
This time, I had miso soup (not pictured because it was already gone, but I guess you know what miso soup looks like anyway), gyozas and Shira Ae, a cold veggie platter with a creamy sesame sauce.
For dessert, I went for a Hoji-tea and an ice-cream with adzuki sauce, green tea sauce and crispy rice flakes. Delicious. Inside, the restaurant looks very Japanese. If you've ever been to Japan, you'll know what I mean. Minimalist decor, and you can hear the staff speak Japanese in the staff area. You can only pay cash, but there is an ATM inside the restaurant. Go to their Facebook page here.
SHIZEN
It's no secret that I love Japanese food, so I was very excited to check out this all vegan sushi bar and izakaya. The interior is Japanese-style, but very modern and cozy. It's very popular, and they don't take reservations, so you just go and sign up for a table and they text you when it's your turn. That worked very well, even with my German phone number, and after 20 minutes a spot at the bar was available for me. I was on my own, so that turned out pretty nicely, sitting at the bar you have company and you can watch how the sushi is made. Everything I saw being prepared looked fantastic. They do have salads, soups and tempura as well. The service was really fast, and my shizen lemonade, sweet potato rolls and brussels sprouts with agave mustard and wasabi aioli were in front of me within 10 minutes. 
The sweet potato rolls were divine: crunchy inside and flavourful. The Brussels sprouts were good too: crispy and garlicky, but quite a big portion. I suggest sharing that dish – otherwise it's a lot of Brussels sprouts, I could hardly finish them. I wish I had brought a couple of people and ordered many different things to share instead of going on my own. Now I'll definitely have to come back for the many other things that sounded good on the menu. You can check out their website here.
ANANDA FUARA
When I talked about some places being little universes in themselves I was especially thinking of Ananda Fuara. This restaurant has a lot of character. The name means the "Fountain of Delight," a name given to them by their spiritual teacher Sri Chinmoy. 
I read the reviews later on Happy Cow and laughed when someone called the decor dated, because, yes, I think some shows on Home and Garden TV would love to give the place a makeover with greige wallpaper and dark wooden floor. 
But I actually think the carpet floor and the bright blue walls were charming. This place doesn't have to try and be trendy, it is about something else. There is a lot of spiritual decoration such as the wall fountain, flowers and pictures and quotes from Sri Chinmoy. The staff were very nice and attentive, and the food choices quite international.
I went for samosas and dal, and a cardamom rosewater cake for dessert. All of it was delicious. When I came back the second time, it was just lunchtime and the place was packed! I was lucky to get a table. I got the impossible burger with teriyaki mushrooms and sweet potato fries and really enjoyed that too. Find out more on their website.
There are of course many other places in San Francisco that I heard good things about and would have liked to visit, such as Pena Pachamama and Veganburg, and hopefully I'll be back soon. What you see here is my mocha cupcake from Mariposa is trying to make the title picture. The job went to the blueberry muffin from Nourish Cafe though, which was lucky enough to have the cable car show up in the background. 
Do you know any places in San Francisco I need to check out the next time I'm there? 
MerkenMerken
MerkenMerken
MerkenMerken
MerkenMerken
MerkenMerken
MerkenMerken
MerkenMerken
MerkenMerken
MerkenMerken
MerkenMerken
MerkenMerken
MerkenMerken
MerkenMerken
MerkenMerken
MerkenMerken
MerkenMerken
MerkenMerken
MerkenMerken
You might also like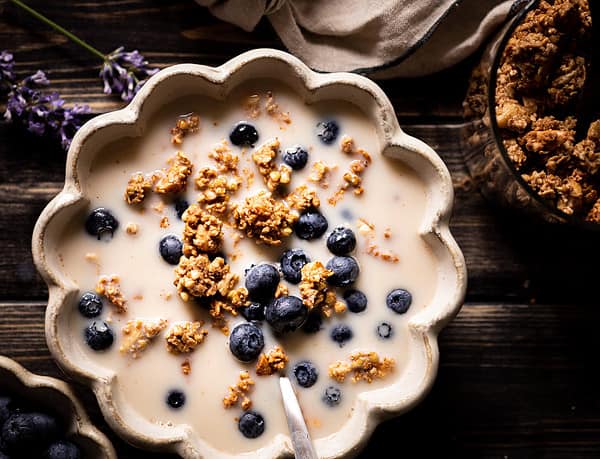 Cooperation with Sunday Natural These delicious crunchy sweet and salty almond buckwheat granola clusters…
24. September 2022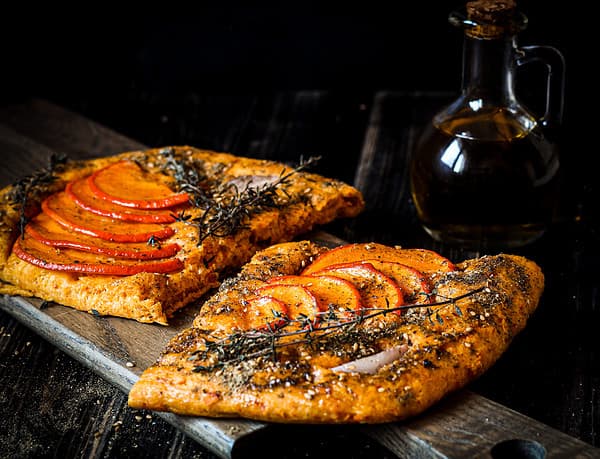 Za'atar is a West Asian spice mixture and there are regional variations. I have a…
20. September 2022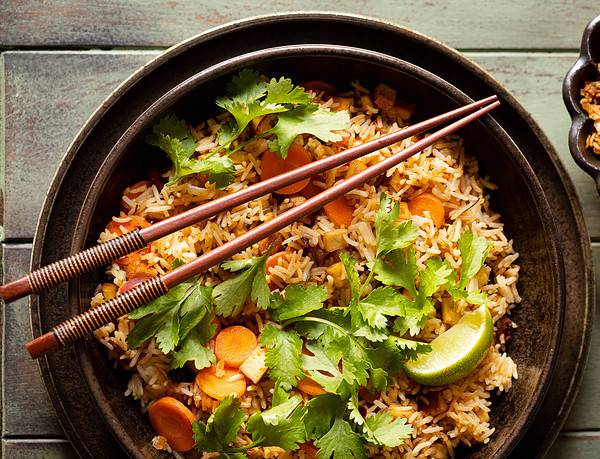 My super aromatic quick easy healthy lime rice with smoked tofu is on our…
20. August 2022