(We picked these vegan places in Barcelona by ourselves, this is not a sponsored post.)
My boyfriend and I wanted to escape the grey November in Berlin by spending a longer weekend in Barcelona. We werent't very lucky with the weather, it wasn't really any warmer, but I only care about food anyway. My boyfriend used to live in Barcelona, but back then he was still an omni, so he could explore the city with me and my Happycow-App from a new angle.
Cactus Cat Bar
Unfortunately we discovered this cozy and friendly cafe by chance on the way to a later invitation, so we couldn't munch our way through the whole menu. We shared a ham and cheese sandwich with our smoothies and loved it. Really tasty and really friendly service. I will definitely come back next time I'm in Barcelona. Their facebook-page is here.
Flax and Kale
When you ask for recommendations for Barcelona, this Name is usually dropped, and our host also praised this flexitarian restaurant. So we had to check it out. We went to Flax & Kale Tallers; there are two other ones- and Catalan chef Teresa Carlos also has a vegetarian restaurant that is named after her, where we have to go next time.  
Flax & Kale ist huge and the interior is very beautiful. There is an endless choice of juices and a menu that makes it very hard to make a decision.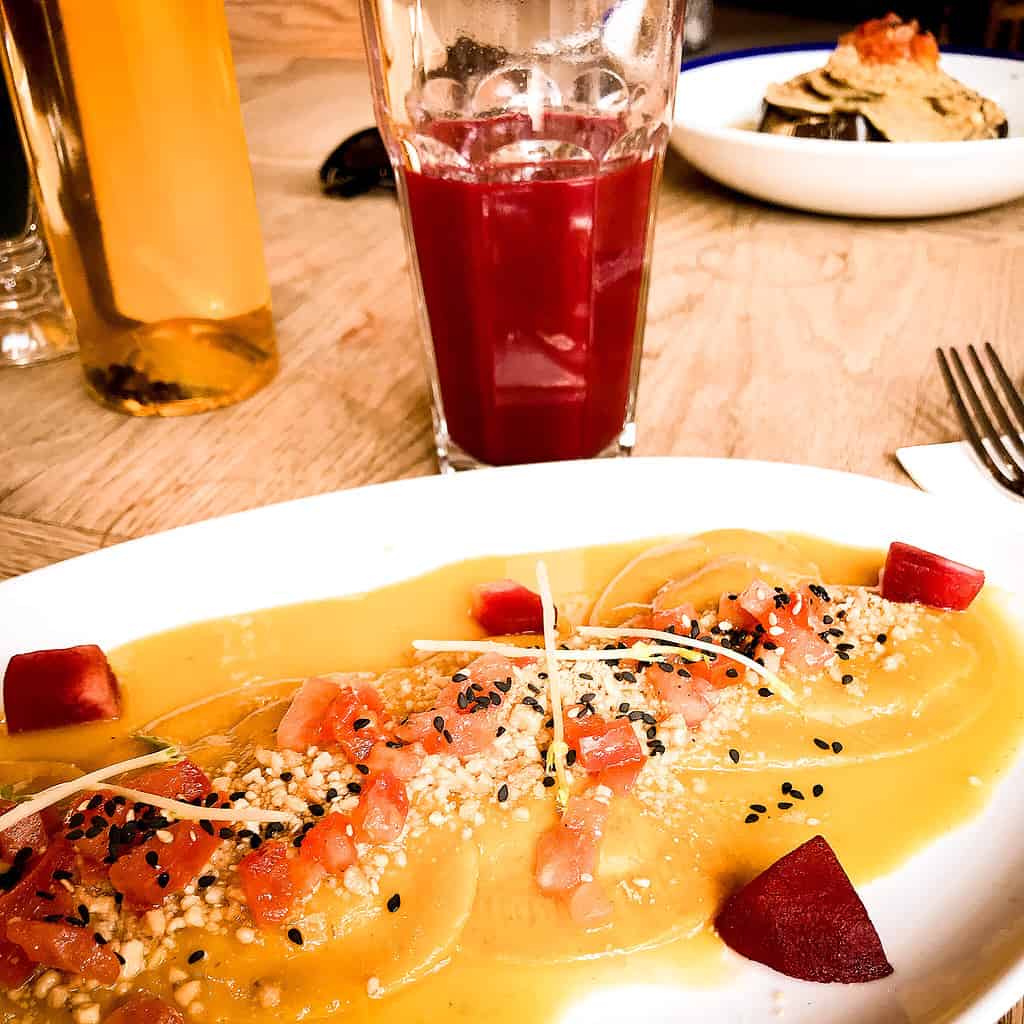 I finally went for the Orange is the new healthy Cuore and a delicious piece of cake for dessert. The breakfast also sounds interesting, I have to come back for that as well. Find out more on their website here. 
Veg World India
This Indian place is 90% vegan and recommend to us by two different people in a row. They have vegan paneer, and it makes such a difference. If you've never tried a paneer naan dipped in palak paneer, you haven't lived!  
We also had a crispy dosa and a yogi tea with plant milk. The restaurant was spacious and authentic, food was extremely good, service was superfast – I would say Veg World India was our favourite. Find out more on their Facebook-page here. 
Xoc'olive
We found this light cozy organic food store and cafe in the same street as our accommodation. This was the first time I tried an empanada. I'm not completely sure about empanadas yet, maybe I have to try another one. 
The lentil salad with sweet potatoes and the muffin were absolutely delicious. And Tom's burrito too, which had unfortunately vanished before I remembered to take a picture. Here is their website. 
Santoni
This vegan café was recommended by friends too. It is not big, but the menu is so extensive! If you don't find anything here, then I don't know. We chose a tortilla and the obligatory croissants with ham and cheese. Here you can find Santoni on HappyCow. 
Vegan in Barcelona – Food Tour
We started our first day right with a vegan brunch tour! It was fantastic and deserves a separate blogpost, which you will find here. And yet, what you see in the picture is a vegan cheese platter! 
Vegan at Barcelona Airport (Terminal C)
Our last dinner in Barcelona was a pleasant surprise too: at the Airport at departure there was a branch of belgian chain Exki, where we got a vegan casserole, coffee with soy milk and a carrot salad.
Hidden Café
I added this lovely cafe with vegan options in December 2019, when I went to Barcelona for work and had a very nice breakfast here with my colleague. There is great coffee with plant milk, avocado toast and vegan cake. It was right across from our hotel and actually not hidden but very easy to find. This is their Facebook page.
Are you going to Spain? Then you might also want to check out these: