(I chose and paid for these tours myself, this is not a paid advertisement)
I never regretted going on an organised tour somewhere, be it the cave excursion on Lanzarote or being shown around Ceausescu's palace in Bucharest. Not to mention Hop-on-hop-off-bus tours to get a first impression of a city! Can you imagine my excitement when I found out about vegan food tours being offered in quite a lot of cities? This has become my new hobby. Let me tell you about the three vegan food tours I went on so far: 
LONDON
My boyfriend and I had a day to spend together in London and we made the most of it, especially for dinner. We went on the Shoreditch vegan food tour. The first stop our sweet tour guide Li-en took us to was Shoreditch Boxpark, a pop-up mall for food and fashion. Here we went to the food court to try the legendary vegan Döner at what the pitta. The soy meat is amazing, and I really have to come back and take a closer look at the shops.
We saw quite a lot of street art- which Shoreditch is famous for- and all that art prepared us well for our next stop, which was a stylish restaurant called Genesis. 
I totally fell in love with the decor: a candy coloured wild mixture of ice cream parlour, retro American diner, comic art, hip Mexican place and religious kitsch. 
The menu is a wild international mixture too, and they also serve breakfast. The food is all-vegan, organic, and many dishes are marked gluten free. We got small tacos (New York deli taco pictured here, with fresh fragrant dill- yummy) and fancy ginger ale in cute bottles. I really want to come back and try more! 
Our third stop was called Vegan Yes. A small cozy place that serves Korean and Italian cuisine mixed together. Strange? I thought so too. But it works! They serve several kinds of homemade kimchi and pasta, and we got a big plate full of yummy healthy things to try, including chocolate covered mochis that were prepared right in front of us. We bought some more to take away! And don't you already feel healthy just looking at this plate, with all the kimchi that's going to feed all the good bacteria in your microbiome?
The last stop was my favourite one, and I am really thankful that the donut shop that Li-en had actually planned on taking us to had closed early that day. Because instead she took us to Brazilian inspired café and community hub, Essential vegan, and it was such a laid back, feel good place. And you won't believe what happened: I was so comfortable there that I even forgot to take pictures of our delicious cake and coffee! I promise to take some next time I'm in London because I will definitely go back there for a real meal.
They also sold Bright magazine there – which I got my vegan queen equipment from – so I got one to read up on what's going on in vegan Britain. 
This tour was organised by veganfoodtours.com, who also offer food tours in London-Camden, Amsterdam, Barcelona, Lisbon and Rome (all of which I am planning to go on:)
TOKYO 
I was lucky to be the only participant that day and have the lovely tour guide Mana all to myself. This was the first one of my vegan food tours, so I was curious about what I was in for. We met at the train station in the trendy neighbourhood of Shimokitazawa. I was a little early, so we popped into a nice organic food store, and it was such a luxury to have my personal tour guide tell me what was vegan and someone who could really read the ingredients, so I didn't have to fumble around with my google translate app, and could also recommend things. I bought a vegan Japanese soup base that I'm curious to try at home.
After that we went to a little organic restaurant and I got this amazing plate with a huge variety of veggies, all prepared in different ways. That was so much fun, and doesn't it look pretty! I especially liked the tempura.

That was just the starter though! The main course was a vegan ramen soup at a very authentic little soup shop with a cool ramen ordering juke box, where I got an amazing ramen soup. Next stop was a really beautiful teahouse where I had a mochi soup for dessert. I love mochi, the little glutinous rice sweets, especially with red beans, and this soup was a variation I had never even heard about before! The café also sells some cute kitchenware and I got two pretty breakfast plates to play with at home.
I got to know some interesting new things about Japan on that tour and had a great time, not to mention the authentic food. I am very glad I went. If you're into vintage shopping, you might want to stay in Shimokitazawa a little longer. Almost every other shop is a second hand clothes store and you will surely find some treasures. 
The tour is organised by Magicaltrip.com, who also offer a lot of other interesting tours, such as a bike tour which also sounds great and seems to be suitable for vegans. Have a look at their website here.
If you're curious what else I found in Tokyo, have a look here.
DUBLIN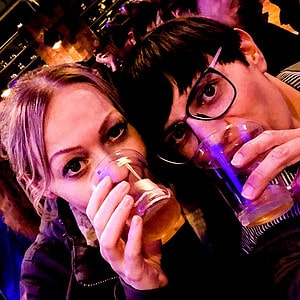 My friend Kathrin and I went on a trip to Dublin and before we even started planning, I attacked her with my new hobby: vegan food tours! That was the only thing I put on the must-do-list. And she wanted to go to the Guinness Storehouse – the big tourist attraction in Dublin! Did you know Guinness have changed their recipes a while ago and now all their beer is vegan? Go to Barnivore for more detailed information. So we tried several of their different beers. That was a lot of fun and the crisps were perfect!

THE VEGAN FOOD TOUR
I highly recommend taking a closer look at veganinireland.com before your trip- not when you come back home like I did. There's so much interesting information and so much to do! Like vegan tea time at a fancy hotel or cooking classes. They can actually plan your whole trip if you like.
I booked our vegan food tour with our charismatic tour guide Sivan on that page too. I hardly ever met a person with so much enthusiasm and passion for veganism- it was an absolute pleasure to listen to her talk about vegan Dublin and follow her to the places she had picked for this food tour.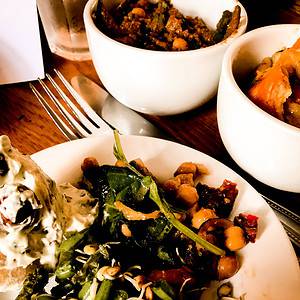 We met at Cornucopia, a 30 year old whole food vegetarian/ almost vegan family business, located in a big beautiful Georgian house. We got a little selection of their bestsellers, which were all superhealthy and delicious. The two of us returned to Cornucopia twice for breakfast on our trip, so at some point we almost felt at home there. 
Our next stop -after a quick peek into a vegan beauty salon -was a pub where we were served Sivan's own vegan Bailey's recipe! She told me the ingredients and I was surprised how different the recipe was from the one I refer to, while tasting very similar.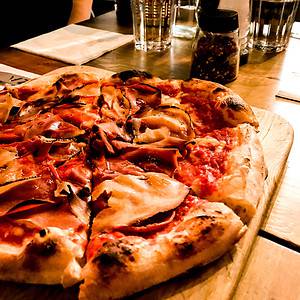 After that it was pizza time. We took our seats in the little pizza place aperitivo and were served two very different pizzas: One was a pile of veggies, one was a fake meat lover's pizza with delicious fake cheese! You probably know I'm a fake meat lover, so that was my highlight. The others mostly preferred the veggie one, people's tastes are so different! We were a nice little group of six on this tour: There was also a young couple from Dublin and I also had the pleasure to meet American vegan traveling youtuber Dom from Globivore. See his Instagram account here.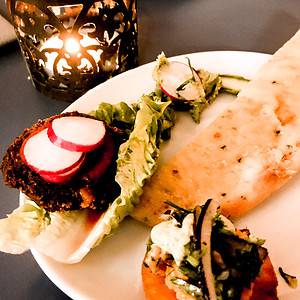 I have to admit that was already enough food for me, but we were only halfway through: We got this fresh selection of tasty middle Eastern fusion food at Brother Hubbard, a nice spacious restaurant with an extensive vegan/vegetarian menu.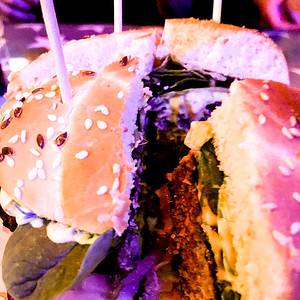 And our last stop was a real stunner: an American-style sportsbar where you wouldn't expect a lot of vegan food, but they serve an Irish version of a beyond meat style burger – just as strangely meaty as the original one.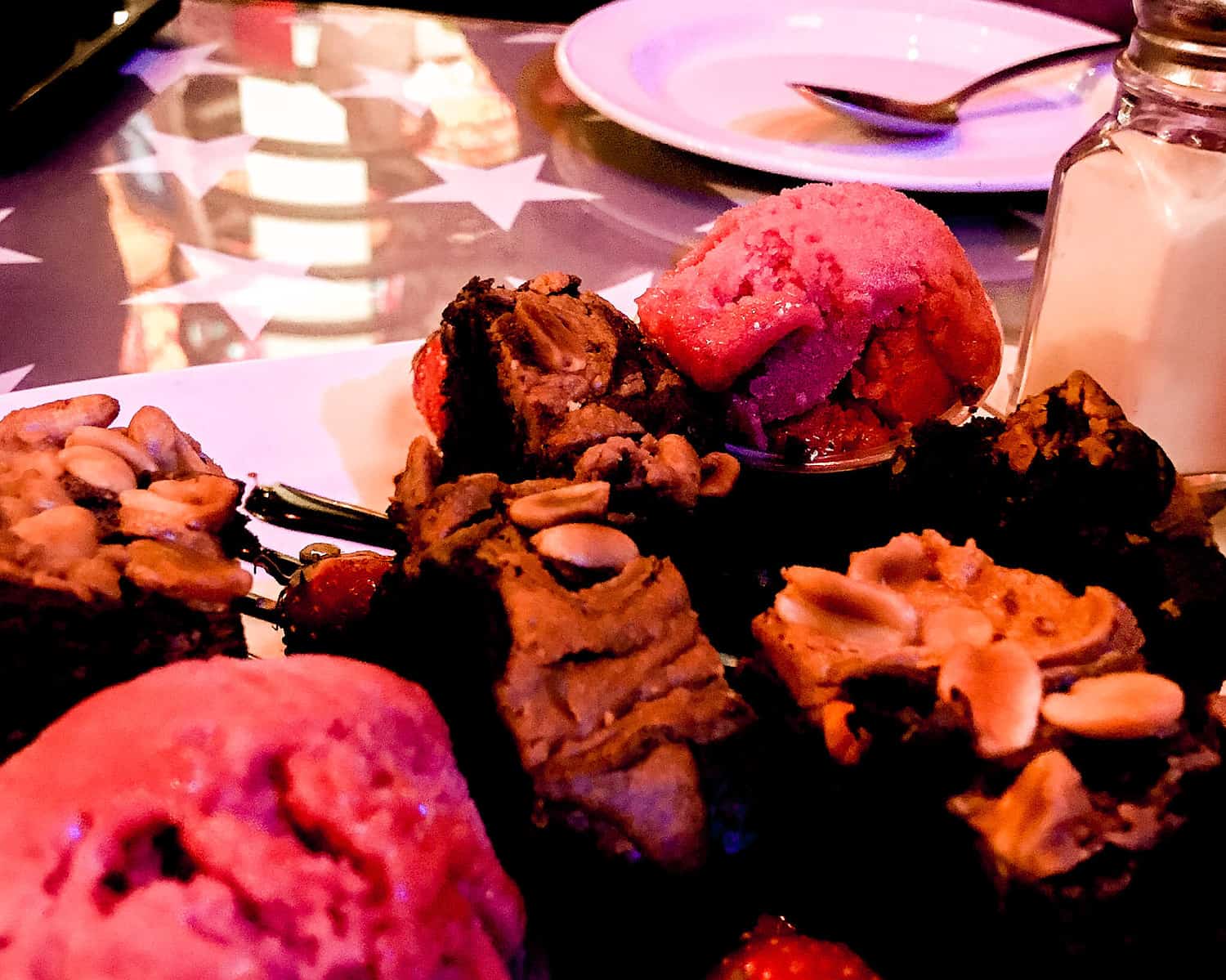 After that came a lovely dessert. And even though we thought we could eat no more we polished all off and rolled back to our airbnb. Of course with a list of yummy restaurant tips from Sivan for the next couple of days. 
Have you been on vegan food tours I should know about? Or any other tour that's suitable for vegans? I'd love some recommendations.
Are you looking for recommendations for upcoming trips? Have a look at my pinterest board.
Did you like this post? You can pin it on pinterest by clicking on the red button below!