Cooperation with Sunday Natural
I guess I don't need to tell anyone anymore why oats, nuts and almonds are superfoods, but what is so special about hemp seeds?
They contain all nine essential amino acids and are very rich in omega-3 acids, and they also are low carb but high in protein and good fats. They don't contain THC though, so no need to worry about being stoned all day if you have this granola for breakfast.
Their nutty flavour goes very well with granola.
Sunday Natural have provided me with their peeled organic hemp seeds for our Cooperation.
Use the code VEGANBUFFET10 to get 10% off the Sunday Natural online shop, except for bundles & sets. The Code is valid until Oct 30, 2021.
But that wasn't all! I also got to play with another superfood for my hemp granola: hibiscus blossom powder.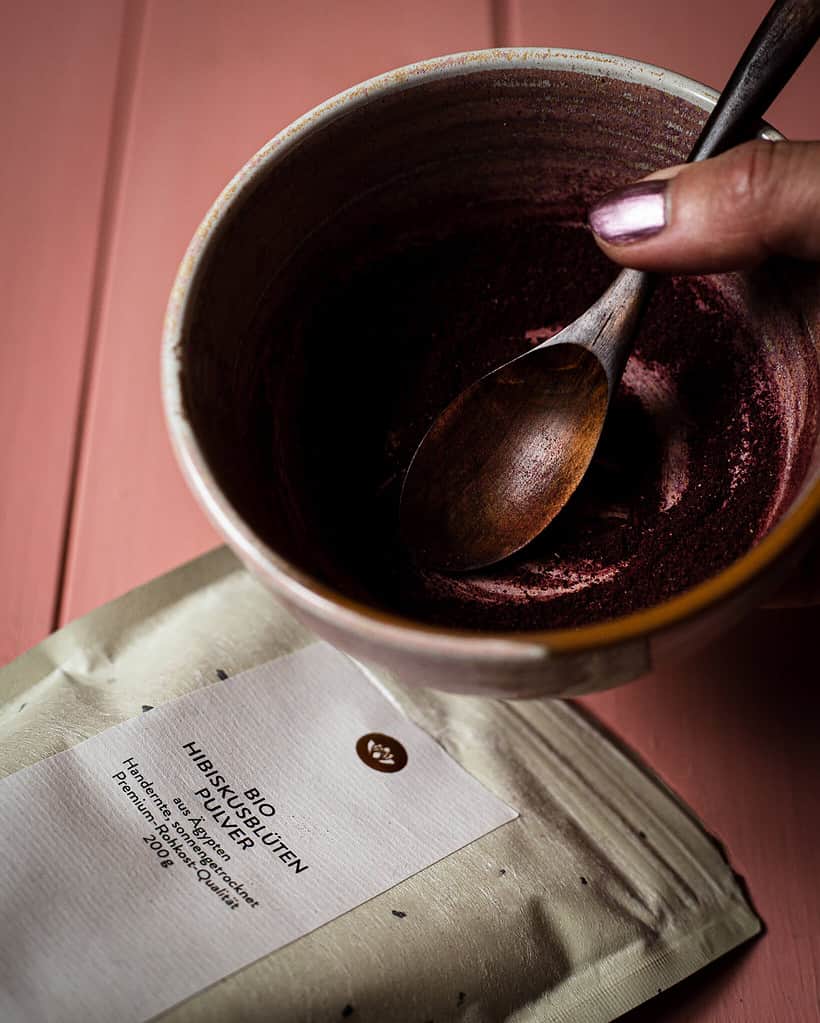 This tropical plant is very rich in precious organic acids, iron, vitamin C and polyphenols. Sunday Natural's sun-dried hibiscus blossom powder is bright pink and has a lemony-refreshing taste.
It didn't only give the hemp granola its special colour and flavour, I also sprinkled some over the coconut yoghurt and stirred it in a little. That tastes amazing and looks pretty.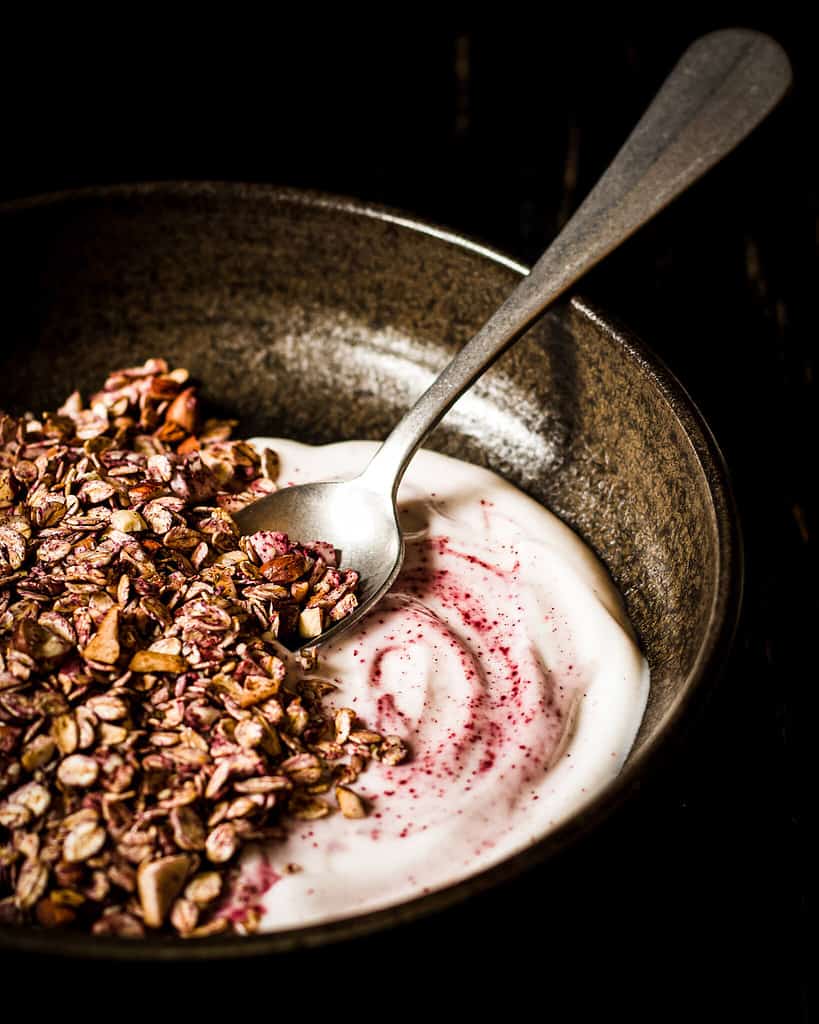 Of course it's amazing with fresh fruit.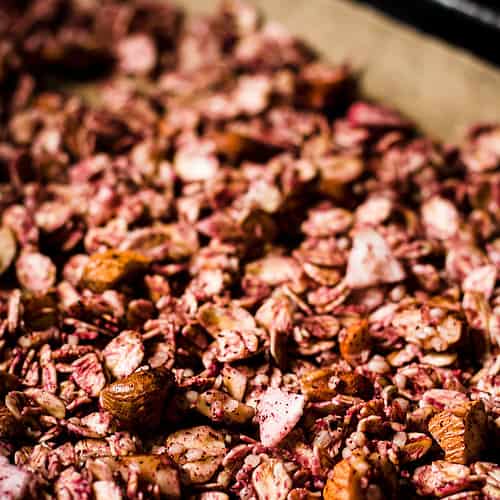 PINK HEMP GRANOLA
Quick and easy to make – pink hemp granola contains lots of superfoods like oats, nuts, almonds, coconut chips, hemp seeds and hibiscus powder!
Ingredients
1,5

cups

rolled oats

1/2

cup

nuts and almonds

chopped

1/4

cup

coconut chips

1/4

cup

hemp seeds

3

tablespoons

maple syrup

1

tablespoon

water

1

tablespoon

hibiscus powder
Instructions
Preheat oven to 180° C/ 356 F°

Combine oats, nuts and almonds, coconut chips and hemp seeds.

Mix hibiscus powder, water and maple sirup and pour over nut mixture. Stir well, so everything is nicely coated and pink.

Spread mixture on a baking tray lined with parchment paper and bake for 7 minutes.
Did you enjoy this recipe?
A 5 star rating would mean the world to me and I always love to see your pictures on instagram @flymetotheveganbuffet
I actually came across Sunday Natural because of their amazing vegan all-in-one multivitamin supplements that even contains omega-3. Is that something you're looking for?
Of course my code VEGANBUFFET10 is also working for them, also except for bundles & sets, valid until Oct 30, 2021.
They also offer delicious matcha tea.
you might also like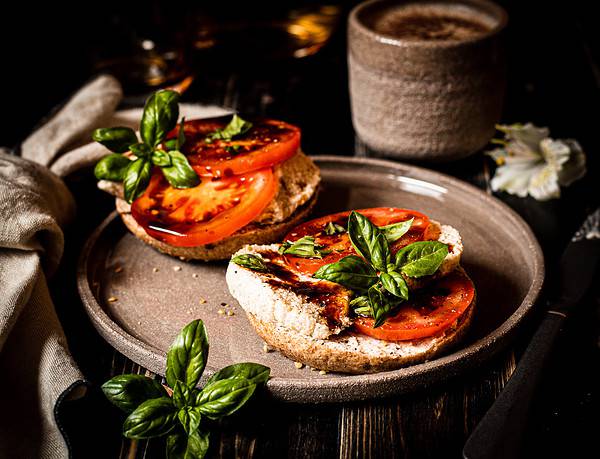 Need some sandwich inspiration? Here are my top 10 favourite vegan sandwich ideas for…
19. October 2021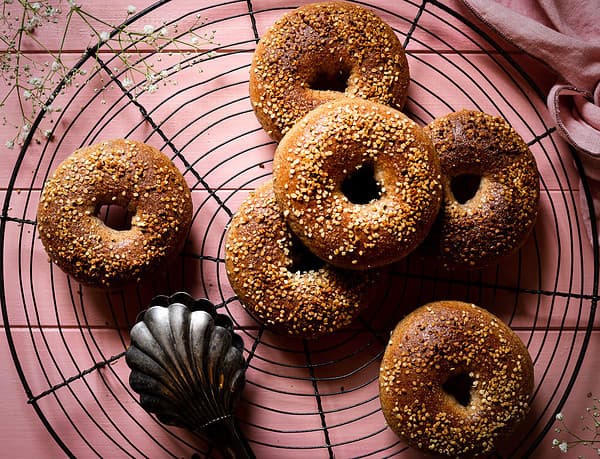 Cooperation with Sunday Natural  Homemade full grain spelt bagels with hemp seeds! So delicious,…
5. October 2021
This sweet potato focaccia started with a tasty bread I ate in Tel Aviv…
30. September 2021