This easy, quick vegan recipe for spaghetti with lentil bolognese are one of the absolute go-tos in our kitchen. We usually have pasta, lentils and tomatoes on hand. As a meat replacement I really like ready to use brown lentils. But of course you can use dried ones and cook them yourself. This dish is ready in 25 minutes and a satisfying crowd pleaser.
This pasta recipe is already super tasty, but with added aromatic browned pine nuts and chopped rocket salad with its nutty spiciness they turn into a sensation!
For the lentil bolognese you only need:
onions and garlic
canned tomatoes and tomato paste
cooked brown lentils
Italian herbs
nutritional yeast
a little red wine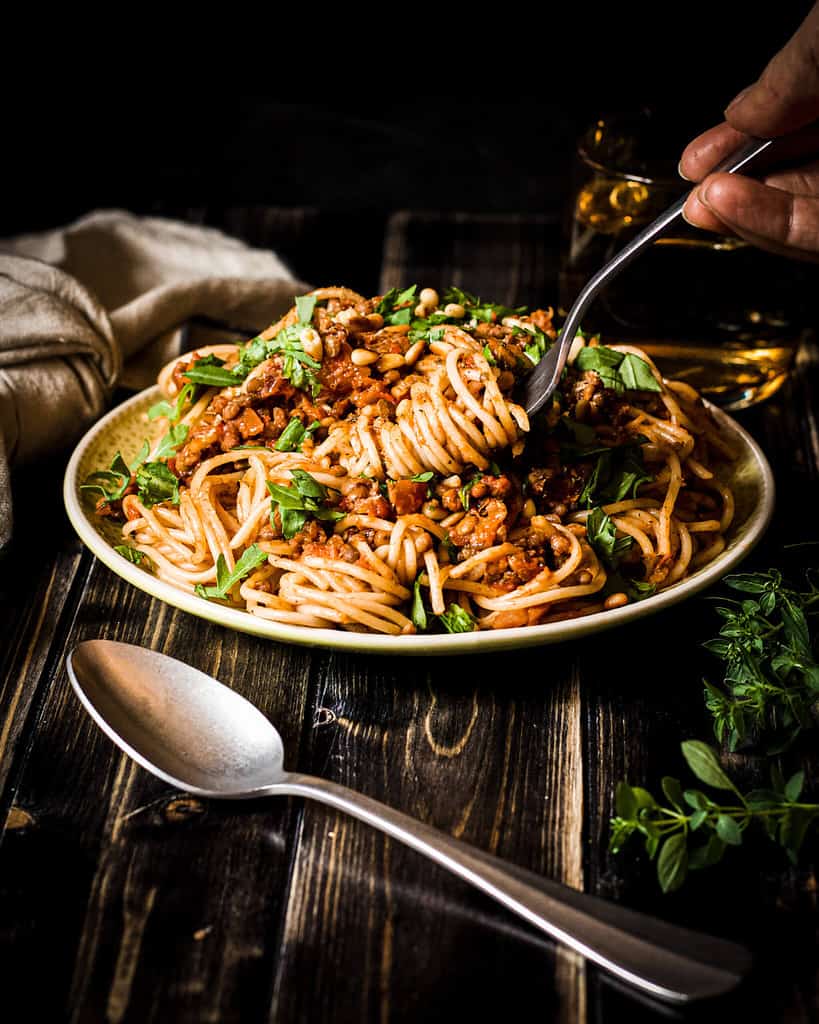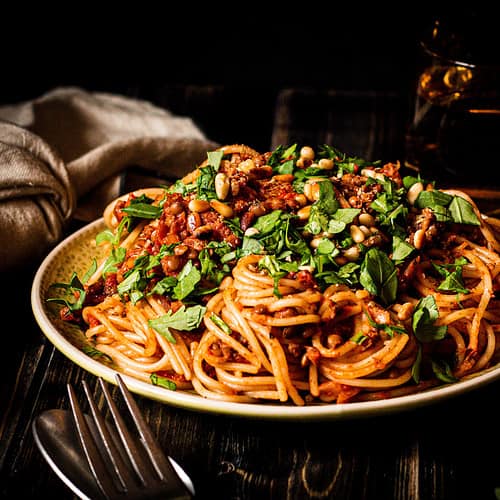 LENTIL BOLOGNESE
These easy tasty vegan spaghetti with lentil bolognese, pine nuts and rocket salad are quick to make, looks amazing and just totally hit the spot!
Ingredients
1

tablespoon

olive oil

1

onion

chopped

1

garlic clove

chopped

1

can

tomatoes

3

tablespoons

tomato paste

1

tablespoon

Italian dried herb mix

1

tablespoon

fresh oregano

1/2

can

cooked brown lentils

1

teaspoon

salt

1/2

teaspoon

sugar

2

tablespoons

nutritional yeast

a little

red wine

optional

300

g

Spaghetti

10 oz.

1

tablespoon

nutritional yeast

1

tablespoon

pine nuts

1

handful of

rocket salad

a

dash of

freshly ground black pepper
Instructions
First, gather all your ingredients and prepare them in the right amounts. That makes it so much easier and more fun and you're less likely to forget anything. 

Heat salted water in a big pot for the pasta. 

Sauté onions in a medium pot in olive oil until soft. Add garlic, tomatoes, tomato paste, herbs, lentils, salt, sugar, nutritional yeast and optional red wine. Stir well, bring to a boil, and then reduce heat and simmer with the lid on. 

When the water is boiling, add pasta and cook for one minute less than instructions suggest. 

Drain and add to the simmering sauce immediately. It's fine if a little cooking water gets into the sauce, it will only make it better. Stir well.

Brown the pine nuts in a small pan, dry or with a little olive oil. Careful, they burn quickly.

Serve the pasta with 1 teaspoon nutritional yeast sprinkled over the top as parmesan replacement, with the rocket salad and the pine nuts. 
Did you enjoy this recipe?
A 5 star rating would mean the world to me and I always love to see your pictures on instagram @flymetotheveganbuffet
If you liked this recipe, you might also like my other 5 quick and easy noodle dishes.